Sending your kid to daycare isn't always easy. The lost socks, the biting, the random events at 2 pm on Thursday. The goal: just make it as easy as possible on yourself. There's no prize for being the most hardcore mom in your child's preschool. So put away your pride, stand tall and use the 10 BEST daycare hacks I've learned from sending my kids to daycare for six years (and counting).
These tips will help you stay on the teacher's good side, ease the daily transitions and keep track of all (ok, most) of your kid's stuff.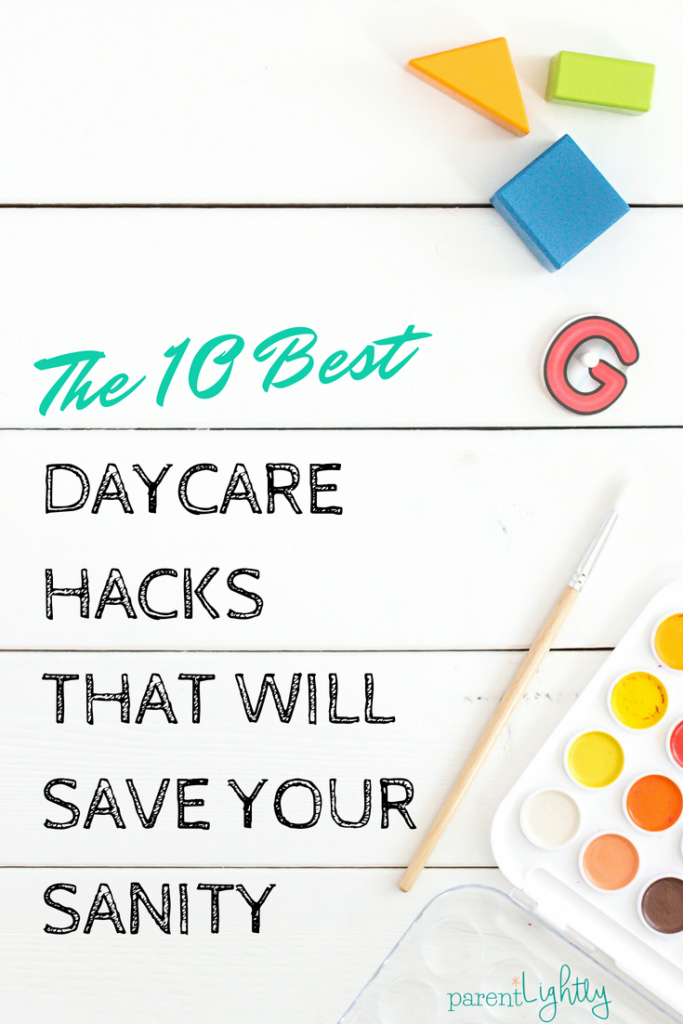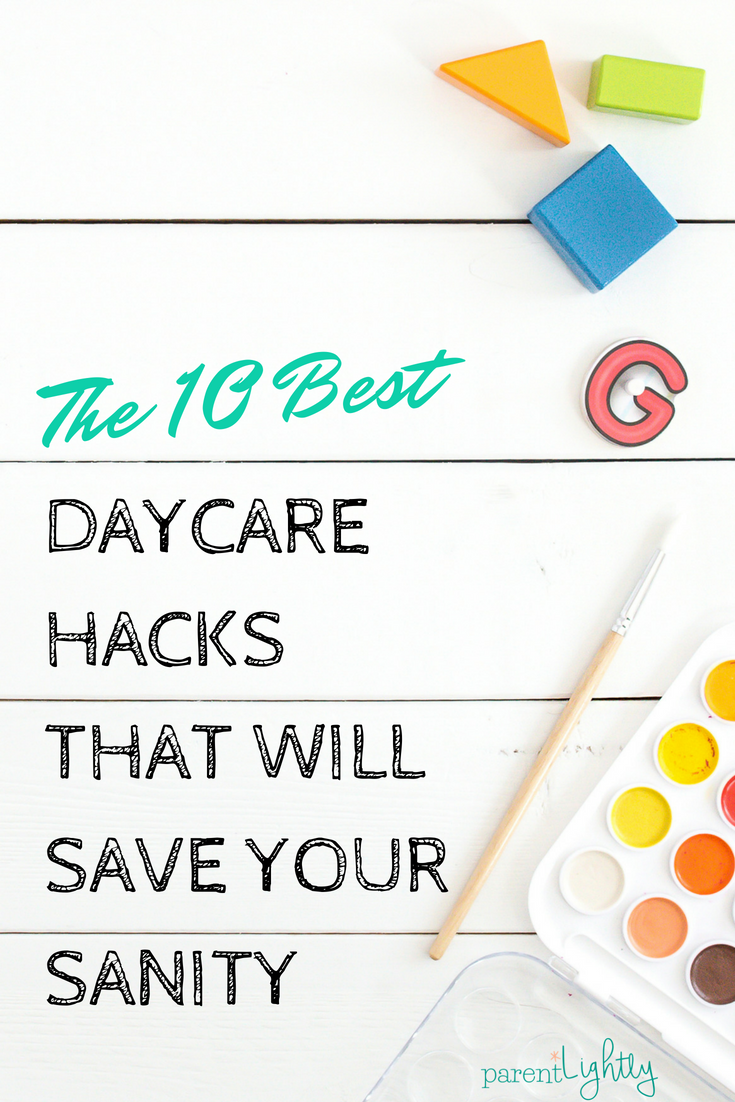 This post contains affiliate links. If you choose to purchase an item from one of the links in this post, I may receive a small commission at no cost to you. Please visit my Terms & Conditions  for more information. 
Always sign up for the paper plates, napkins or juice boxes
When a holiday is coming, keep an eye out for the party signup sheet. Your goal: be one of the first few lucky parents who can volunteer to bring juice boxes, plates, napkins or utensils. These items are all important to the party and very easy to get. You don't have to worry about them being nut-free. They'll keep for days or weeks. You can put them in your grocery order on Monday and they'll be just fine by Friday. And if you forget (who hasn't?) you can get these items at any drugstore on the route between your office and daycare.
Daycare Hack #1: Always sign up to bring juice boxes, plates, napkins or utensils to the class party.
Click To Tweet
Be the First to Sign Up for Parent Teacher Conferences
The random 11 am parent-teacher conference is THE WORST. While you're scanning the area for party sign-up sheets, also look for parent-teacher conference sign-ups. Do your best to snag the slot that aligns with the time you usually drop your kid off. It will add just 15 minutes to your daily drop-off routine instead of totally disrupting your day!
Labels With Your Last Name Only make Hand-me-downs Less Confusing
Recently, my younger child had bike day at her school. The helmet I sent used to belong to big sister, so it has big sister's name on it – not the name of my younger daughter. This confused her teachers and she ended up having to wait until I arrived to sort it all out. If I had it to do over again, I'd just get a bunch of labels with our last name only! That way, there wouldn't have been quite so much confusion – in theory – over hand-me-downs. The NameBubbles labels that we use are incredibly tenacious.
Ask to be Pushed Out the Door When Drop-Off is Tough
The "push out the door" method is the most effective technique for dealing with drop-off jitters gracefully. When your child isn't feeling it and doesn't want you to leave, ask him to push you out the door. Make a big production of falling forward when you get pushed. Lay it on thick. Your child will be giggling so much that they'll forget to be sad. I've used this technique about eleventy billion times and it has never, ever failed.
Send a Picture For Separation Anxiety
Also on the topic of separation anxiety, my kids like to take an item to school to remind them of mom and dad. The problem with actual items is that they usually get lost sooner or later. Instead, we started drawing ridiculous stick-figure pictures of our family on small pieces of paper (index cards are great). The kids can put the picture in a pocket or backpack and carry it around all day at school. The best part – if the picture gets lost, it's not an important work of great artistic genius! You can just draw another stick figure family the next day.
It's OK to send them in pajamas!
You're having one of those mornings. Your kid thinks you have all day to debate the finer points of toddler fashion. Forget it. Grab some clothes and shoes, and bring your kid to school in her pajamas. I promise it won't be the first time the teachers have seen this, and it won't be the last.
Printable Amazon Cards Make Awesome Last-Minute Teacher gifts
You want to thank your child's teachers when you have a chance! We usually send something around the holidays, for teacher appreciation week, and when the child moves to the next class. The absolutely BEST last-minute present is a printable gift card from Amazon. You can actually put your kid's picture on an Amazon gift card and print it at the office. Keep small note cards and envelopes in your desk for occasions like this. Write a heartfelt note, include the Amazon gift card with a cute picture of your child and you cannot go wrong!
Daycare Hack #7: For last-minute teacher gifts, upload a picture of your kid to an Amazon Gift Card and print it out at the office.
Click To Tweet
Sharpies + Colorful Tape are Great for Labeling
If you don't want to deal with personalized labels, keep some colorful tape and permanent markers (affiliate links) on hand for labeling things. My younger daughter's infant room assigned each child a color and gave us a roll of painter's tape to label all of their things. It's a genius idea that we still use today.
Put All of the Closure Days on Your Calendar
Put the entire year's off days into your calendar well in advance and set reminders. Otherwise, their random teacher workdays will sneak up on you and you'll be scrambling for coverage the night before.
Be the Mom In the Know
Now that you know the best daycare hacks, you'll be the best prepared mom on the block. These tips will save you countless time, energy and frustration! Try one out today.
Know a working mom who could use these hacks? Please share!