You feel guilty dropping your tiny baby off at daycare, but as he grows you both get more comfortable with it. You're getting into a groove, when it hits. The first wave of separation anxiety. Around 8 months, your baby suddenly realizes that you're a separate entity and that you're leaving. And it doesn't stop there. Kids go through waves of separation anxiety throughout the toddler and preschool years. Elementary school kids aren't immune either.
Find good ways to handle your child's separation anxiety now, because it isn't going away. These tips are perfect for kids three and older.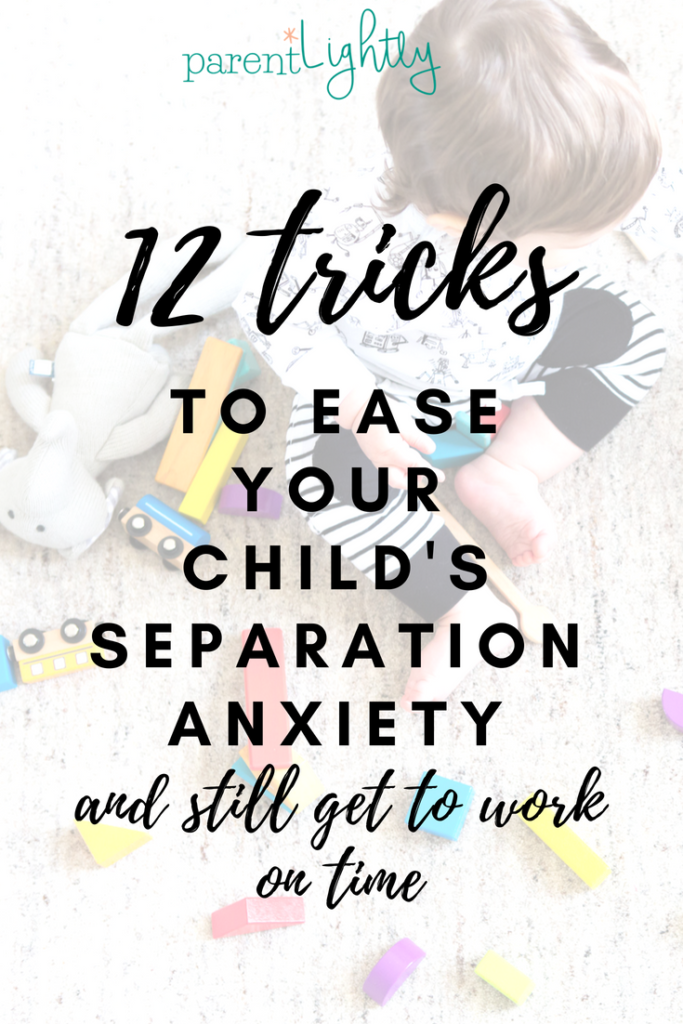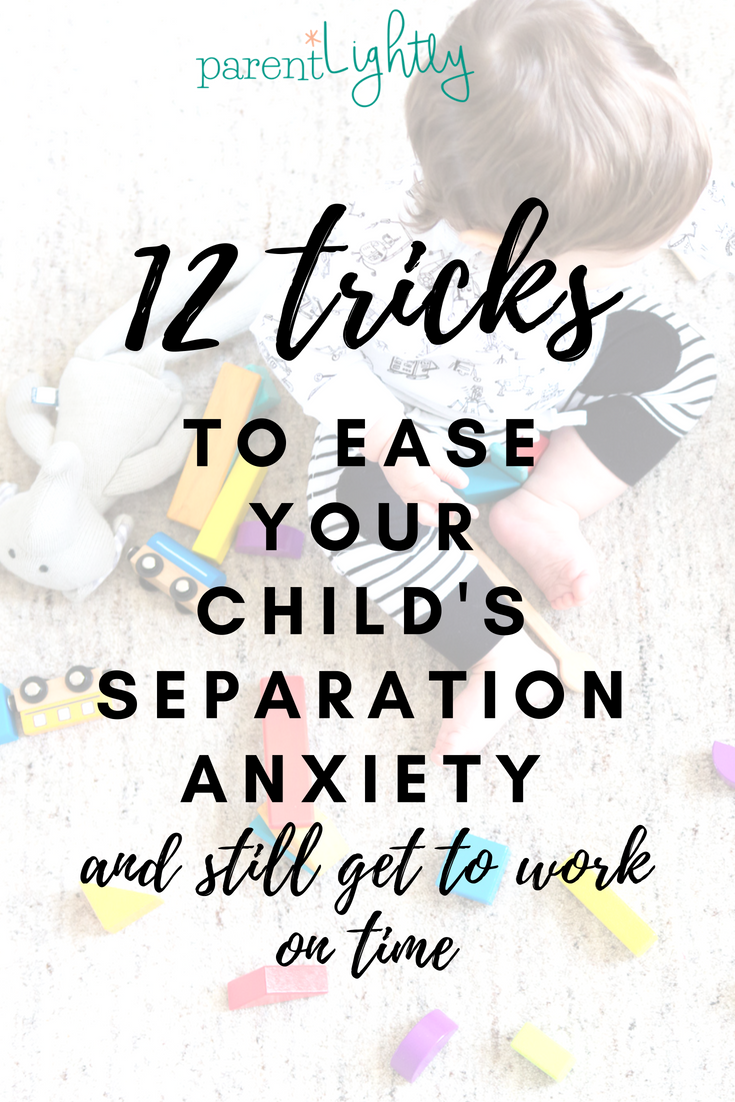 This post contains affiliate links. If you choose to purchase an item from one of the links in this post, I may receive a small commission at no cost to you. Please visit my Terms & Conditions  for more information. 
Separation anxiety seems to peak in the morning, when kids go off to school or daycare, and in the evening, when kids go to bed. Those are the two biggest separations from their parents, so of course it makes sense that the kids would feel most anxious at those times. There are lots of techniques that work for any time of day, but a few are specific to day or night. We'll break it down!
Perfect for Day or Night
Pictures
Pictures are an easy way for your children to keep the family close. We often draw silly stick figure families for our kids to take to school (a favorite daycare hack). A framed family picture in the child's room is a great way to help her feel close to loved ones, as well. It's awesome to include extended family, too, so your kiddo really feels surrounded by love in their bedroom at night.
Jewelry
My daughter was wearing a Hands-Free Mama leather bracelet 24/7 for a while. Necklaces sometimes work, too. It can be tough to find jewelry for kids.  Don't give them anything of sentimental value since they might lose it!
Handkerchief
I used to carry around one of my mom's handkerchiefs when I was small, and my kids sometimes carry around special handkerchiefs that came from their grandma. Just make sure you don't mind these getting lost.
Kissing Hand
We LOVE the book, The Kissing Hand (affiliate link), and read it often. In the book, Chester Raccoon does not want to be away from his mama for school. Mrs. Raccoon gives Chester a kiss to hold in his hand all day long, and Chester gives his mama's hand a kiss. This is a super great way to give the kids something to hold on to throughout the day – or night.
Daytime
Note in Lunchbox
It's always fun to leave a little love note in your kiddos' lunchbox. It will give them a connection to you in the middle of their day, and will also be a fun surprise.
Special Clip-On Toy
The kids at our elementary school always have a million toys clipped to their backpacks. Why not choose a special clip-on toy with your kid as a special thing for just the two of you? My daughter and I have joint custody of a clip-on brown dog, and some days she insists that I clip it to my laptop bag before I go to work.
Push Me Out
This is my very favorite method to get an anxious preschooler into school (another tried and true daycare hack)! You just stand at the door of the classroom and ask your child to push you out. They almost always go for it. When they push, even if it's the weakest push ever, make a huge production of falling out the door. The kid will start laughing and you'll be gone before they know it. Magic.
Daniel Tiger
When in doubt, call upon Daniel Tiger. We sing "Grown-ups come back…" very often!
Nighttime
Nighttime is so hard because everyone is low on energy. Here are a few things that have worked for us over the years!
Promise to Check Later
Sometimes, I can calm a kid down by promising to check on her later. She usually asks me to leave a note as proof that I came in, which I do. The next morning, I make sure to mention how cozy she looked when I checked on her the night before! It seems to help kids to know that a parent will look in on them during the night.
Leave the Door Ajar
This doesn't always work, but sometimes leaving the door ajar and doing something moderately noisy near your child's room will reassure him that you're still around. In some cases, hearing the regular household noises may be comforting to a child at bedtime.
Pat Back for One Minute
I've found the optimal time to pat a kid's back at night, and it's one minute. You saw it here first. That's long enough for them to feel like you were with them for a while, but almost no impact to your evening, so you can't be resentful or in a hurry. When they ask for a million pats on the back, just calmly pat their back for a minute but otherwise do not engage. They will soon get bored and fall asleep.
Llama Llama
We've all told our kid not to be a drama llama before…right? Right? Llama Llama Red Pajama (affiliate) is a wonderful book for easing the bedtime transition and reminding kids that mamas are always close – but sometimes doing other things after the kids are in bed!
Separation Anxiety Isn't Going Away
Your children naturally want to be with you, and some are more sensitive then others. For very attached kids, separation anxiety isn't going anywhere. It's best to find respectful ways to help your child handle these feelings, without being too disruptive to your daily routine. Easing your child's separation anxiety can definitely be done in a way that both respects the child and your boundaries as a parent.